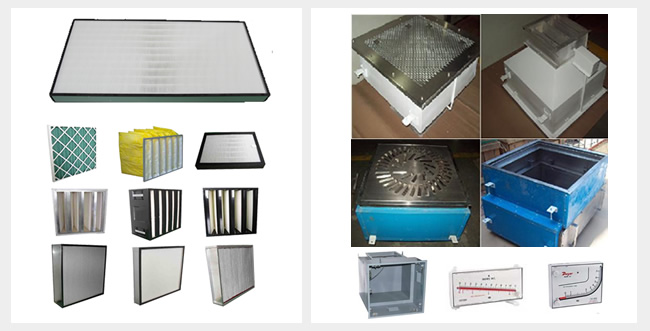 HEPA FILTERS ( CATS – UK )
S. No.

Items Descriptions

Sizes (mm)

Sizes(Inches)

Air Flow m3/h

1

HEPA FILTERS- CATS -UK

DEEP PLEAT HEPA FILTER GALVANIZE FRAME, ALUMINUM SEPARATORS
EFFICIENCY : 99.997%
CLASS : H13
INITIAL PRESSURE DROP: 250pa

610 x 610 x 292

24 * 24 * 12

2200

305 x 305 x 292

12 * 12 * 12

550

610 x 610 x 150

24 * 24 * 06

1100

305 x 305 x 150

12 * 12 * 06

275

457 x 457 x 150

18 * 18 * 06

560

457 x 457 x 292

18 * 18 * 12

1120

2

HEPA FILTERS- CATS -UK

MINI PLEAT HEPA FILTER H14 EXTRUDED ALUMINUM FRAME, HOT MELT BEADS
EFFICIENCY : 99.999%
CLASS : H14
INITIAL PRESSURE DROP: 200pa

610 x 610 x 69

24 * 24 * 03

1000

305 x 305 x 69

12 * 12 * 03

250

915 x 610 x 69

36 * 24 * 03

1500

457 x 457 x 69

18 * 18 * 03

564

610 x 1220 x 69

24 * 48 * 03

1000
Bottom/Top Loading, Side/Top Connection Type, SS, GI/CRCA Powder coated construction, Slab/False ceilin Mounted.
Combines all the essential functions required for pharmaceutical and biotechnology facilities
Controls and connections accessible from room side
Fully welded seams
Quick filter change
Capability to isolate the room during filter change

Application: Turbulent airflow clean rooms in pharmaceutical and bio-pharma.
Type: Terminal filter ducted ceiling exhaust housing for HEPA/ULPA filters in clean rooms, gel seal, with individual bubble tight damper.
Construction: 1.6mm aluminium, continuously welded. Or G.I. 1.6 mm
Duct connection: Rectangle, Round, fully welded ribbed inlet on top and side
Damper: Individual adjustable bubble tight damper for airflow adjustment and hood bubble tight isolation.
Included functions: Static pressure port.
Damper control with damper position indicator.
Overall efficiency test: downstream sample port.
Ports: Chrome-plates brass quick disconnect.
For filters: MEGALAM HFU H14 or U15 gel seal MD, MX and MG depth.
Filter seal: Immediate airtight seal by knife edge technology and gel seal filters.
Filter mounting: Quick filter change by pre-positioned rotating clamps.
Controls: Individual MPPS scanning, EN 1822 individual test report in the box.
Fastening: Suspended or fixed by 4 hanging pads.
Grille: Stainless steel 304 flush perforated hinged grilles, 40% open with 38mm removable trim.